Nuances of Valpolicella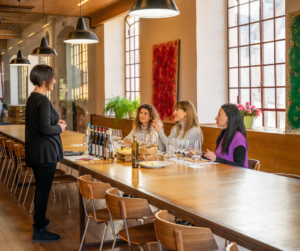 Discover the red wines of Valpolicella, their distinctive features and ties with this region, by tasting four of our wines: Valpolicella DOC, Valpolicella Superiore Campo Bianco DOC, Valpolicella Ripasso Superiore DOC and Amarone della Valpolicella DOCG. This tasting will be paired with  our extra virgin olive oil DOP and a selection of  local products.
Price per person: € 30,00 from Tuesday to Saturday
A journey through time with Amarone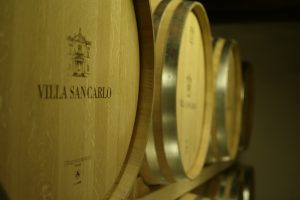 The tour starts with a pleasant walk through vineyards and olive groves. Immerse yourself in a stunning natural landscape and get the chance to learn more about the characteristics of the terroir and the history of the estate. The tour continues in the winemaking area, wine cellar and barrel cellar. To conclude, you can sample our most expressive wines: Valpolicella "LA", Valpolicella Superiore Campo Bianco, Valpolicella Superiore Ripasso and Amarone della Valpolicella DOCG. This tasting will be paired with  our extra virgin olive oil DOP and a selection of  local products.
Price per person: € 45,00 from Tuesday to Saturday
PICNIC among vineyards and olive trees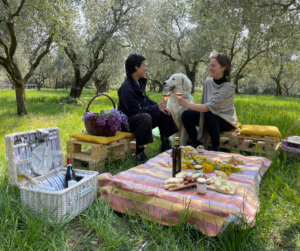 A relaxing experience that combines the pleasures of wine and food through an ancient ritual, surrounded by nature. Book your basket with everything you need for your picnic and choose a wine: Rosato or Valpolicella. We will take you to a picturesque spot on the estate where you can enjoy your picnic. You have to collect your basket from our wine shop on the day and time of your visit.
Price per person: € 40,00 from Tuesday to Saturday
#VillaSanCarloExperience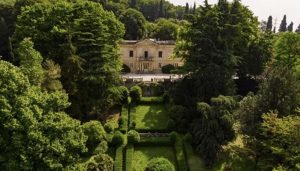 A unique and fascinating experience, an emotional journey through nature, beauty and stories while walking along the garden paths of the historic villa. The #VillaSanCarloExperience will take you into the magical world of the Villa San Carlo estate, which is where we found the inspiration to create our wines. We will begin the tasting session with the fresh Valpolicella DOC and we will then continue with the harmonious Valpolicella Superiore Campo Bianco DOC, followed by the complex Valpolicella Superiore Ripasso DOC and the elegant Amarone della Valpolicella DOCG and, to conclude, the exclusive Amarone Riserva DOCG. This tasting will be paired with  our extra virgin olive oil DOP and a selection of  local products.
Price per person: € 90,00 from Thursday to Saturday morning.
ONLY FOR PRIVATE GROUPS
A Day with Villa San Carlo
A relaxing day in the nature among the vineyards and olive trees of our estate.
The experience begins at 10.30 in our Wine Shop with a tasting of our red wines: Valpolicella, Valpolicella Superiore Campo Bianco and Valpolicella Ripasso Superiore, paired with extra virgin olive oil DOP and local products.
After the tasting you will be taken to a suggestive corner among vineyards and olive trees where you will enjoy a body treatment (by Elena Manopesca) with natural oils and essences to relieve tension and stress. The massage lasts 35 minutes, during which arms, hands, shoulders, neck and finally the head are treated, for deep relaxation.
At the end of the treatment, the day continues with a picnic based on a selection of typical local products and a bottle of your choice between Rosato and Valpolicella. The day ends by 17.00.
Price per person: € 130,00 / booking on Thursday, Friday and Saturday
ONLY FOR PRIVATE GROUPS

All tastings will start with our lively Rosato 2020!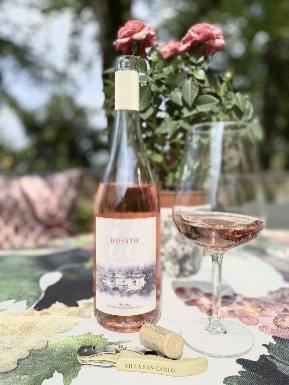 Tastings and tours are also available in English.
Meeting point: Villa San Carlo Wine Shop, Via della Segheria 1/H, Montorio – Verona, ITALY You can easily get to our location from Verona Porta Nuova railway station and from the city centre by taking bus number 13, which runs on a regular basis
Bookings For all experiences, please book online or call +39 045.9237753. If you wish to cancel, you can do so up until 12 hours before the booked time, but we will not refund any amounts paid.
Weather Outdoor experiences will only take place weather permitting.
Safety In order to be able to safely welcome you at our premises and make sure that your tasting experience is as enjoyable and peaceful as possible, we ensure compliance with all occupational health and safety procedures, as per Legislative Decree 81/08 and in accordance with Covid regulations.
We follow the guidelines for hospitality in the vineyard and in the winery set out in the Carta dell'Enoturismo ai tempi del Covid-19 (Wine Tourism Charter in times of Covid-19). All surfaces are sanitised after each service. Wine glasses and dishes are washed at a temperature of at least 70°C. We make sure that the rooms are aired well by keeping them open as much as possible. We ensure overall compliance with current protocols.
For safety reasons, please bring your own picnic blankets.
Diet If you are vegetarian, please feel free to send us an e-mail to request an alternative menu to be paired with the wines you will be sampling.
Children All guests under the age of 18 will not be served alcoholic beverages. Instead, we will offer soft drinks or fruit juices. 20% discount for children and teenagers aged between 6 and 17. Free for children under the age of 6.
Due to the health and safety measures in place, visits and tastings in the winery are only available to a limited number of guests. Please contact us at info@villasancarlo.wine for bookings and information.
Check our website www.villasancarlo.wine for opening days and availability